Kashmir: The Heaven on Earth | TTW
Updated: Aug 27, 2021
When someone asks you if you would like to take a trip to Kashmir, what comes to your mind? Before considering the alternative, do you think twice? Do you recommend a destination elsewhere? Oh, shouldn't you. I recently had a group trip that made me understand how scared most of us are of going to Jammu Kashmir on a trip and what a waste of a great chance it is! Kashmir tourism depends heavily on its visitors and thrives on individuals like us, you need to visit to see the stunning views and scenery provided by the area. The location has a variety to offer and the beauty of it all is the best aspect of the landscape or the scenery of the breath-taking Kashmir.
The Scenic Beauty
Srinagar, Kashmir is rightly crowned as "Heaven on the Earth" with its picturesque scenery and mesmerizing Dal Lake. Situated on the bank of the Jhelum River, Srinagar is the summer capital of the Jammu and Kashmir Union Territory. The center of Kashmir's tourist attractions is the lively shikaras on Dal Lake. Green mountains create the ideal sound of romantic chill-outs, along with colorful Shikaras and houseboats. Srinagar draws thousands of tourists each year as the birthplace of several Mughal Gardens, exquisitely embroidered shawls, and floating vegetable markets.
How to Reach:
By air: The closest airport is Srinagar International Airport. As an international airport, it shares close relations with many foreign countries, including Mumbai, New Delhi, Kolkata, Chennai, Hyderabad, Bengaluru, and many more, as well as most of India's major cities.
By rail: In Srinagar, Kashmir, there is no railway. Srinagar's closest railway destination is Jammu, which is about 290 kilometers away from Kashmir's summer capital. Jammu railway station, being the region's main railway, is well linked with the other parts of the country.
Kashmir Valley in Autumn
Regarding Visa:
To travel to Earth's paradise, foreigners require a visitor visa. Apply for an E-visa online along with the necessary documentation and fill in the form correctly. For residents of more than 150 countries, it is applicable. Before your stay, you will register for a minimum of 4 days and a maximum of 120 days. An Indian tourist visa is valid for 60 days and does not come with an extension period option. A standard tourist visa that is valid for 6 months is applicable if you are planning a long trip.
Kashmir Valley in winter
Best time to visit:
You might have too many questions about this like the Best time to visit Kashmir, the Best time to visit Kashmir for snowfall, the Best time to visit Srinagar, the Best time to visit Gulmarg, the Best time to visit Gulmarg for snowfall, and a lot more :
Srinagar is a popular tourist destination due to the friendly climate and relaxing weather during the year. While people from all over the world visit Srinagar during the year, the best time to visit Srinagar Kashmir is considered to be from April to October. When you pay a visit during this season, along with other things, you will enjoy nature to the fullest. Summer and winter are two of this valley's major seasons. Summer temperatures vary from around 14 to 30 degrees Celsius, while winter temperatures range from -4 to 15 degrees Celsius. Not much rainfall is witnessed in Srinagar because of its location. Over the summer, cool and nice weather helps to admire the majestic beauty of the Kashmir valley. Visiting makes the sightseeing hassle-free during summer. In addition to visiting other spectacular sites, the Tulip Festival held in summer is the center of attractions.
Things to See in and around Srinagar
Shikara ride in Kashmir
A sunset shikara ride on Dal Lake: On Dal Lake, a shikara trip is a no-brainer. Visitors to Kashmir are greeted by Kitschy vessels, littered in bright carpets and rugs. In the evening, we recommend going for a ride so that you can continue when the sky is still blue and spot reflections of the surrounding mountains and plans in the water, and hang around until the sunsets. With my wife, we visited Srinagar and this was one of her favorite activities in Srinagar to do.
Shikaras of Dal Lake
Dal Lake: The first alternative for tourists in Srinagar is Dal Lake. An excellent scene is formed by the colorful wooden boats or Shikara floating on the lovely water of Srinagar Dal Lake. An intimate chill out in the houseboat is an unforgettable experience that you want to experience on your journey. In terms, the seductive essence of the surroundings and the sunset and sunrise from Dal Lake is indescribable.
Floating Market in India
Floating Market on Dal Lake:
Then visit the floating vegetable and flower market at Dal Lake at sunrise if you don't mind setting up your alarm for an unearthly hour. This busy marketplace is genuinely special because boat shops are set up by manufacturers and buyers often come by boat. As this is one of the tourists' most famous experiences, for this experience, expect to shell out around INR 2000-2500 (£25-30).
Shalimar Bagh Mughal Garden
Shalimar Bagh: During the Mughal Period, Shalimar Bagh was also installed. In order to impress Noor Jahan, Jahangir designed this Persian style of architecture. This garden, situated beside Dal Lake, is surrounded by trees and has a canal in the center as well. You will appreciate various facets of the beauty of the garden from the three terraces of Shalimar Bagh.
Indira Gandhi Tulip Garden in Srinagar
Indira Gandhi Tulip Garden: A must-visit tourist spot in Srinagar is the Tulip Garden, named after the former Prime Minister of India. In this garden, you can discover almost 60 varieties of tulips. This garden is considered the largest tulip garden in Asia, occupying almost 12 hectares of land. A host of bright tulips covering a vast land leaves your mind with a lasting impression.
Pari Mahal Kashmir
Pari Mahal: Pari Mahal, which in the local language means 'palace of the fairies, is a multi-terraced garden built on an elevation with enriched historical history. It used to function as a Buddhist monastery and was then the learning establishment of Dara, the son of Shah Jahan, the Mughal emperor. The velvety green garden, with its surrounds, calms tourists' minds.
Hazratbal Shrine a mosque by the Dal Lake
Hazratbal Shrine: A shikara ride is a no-brainer on Dal Lake. Visitors to Kashmir are greeted by kitschy vessels, littered with colorful carpets and rugs. In the evening, we recommend going for a ride so that you can continue when the sky is still blue and spot reflections of the surrounding mountains and plans in the water, and hang around until the sun goes down.
Gulmarg
Gulmarg: Another tourist attraction of this valley is Gulmarg or Meadow of flowers. It is the spot where you can enjoy riding the world's highest cable car, apart from being the home of ski resorts. With a lifetime of experience, Gandola whisking up to 13000 feet of Mount Apharwat would certainly enrich you.
Sonmarg Kashmir
Sonmarg:
Sonmarg is located on the Srinagar-Ladakh Highway and is one of Srinagar's main tourist spots. This location, famed for the Thajiwas Glacier, offers you a mesmerizing view. You should take a cab or a pony to the Glacier. You can also hike the Glacier, which takes about five hours to finish the same thing.
Pahalgam
Pahalgam: Approximately three kilometers from Srinagar, Pahalgam is home to trekkers and adventure lovers. A captivating vision is provided by the snow-capped mountains and the crystal clear water of the River Lidder. This is the point of departure for Amarnath Yatra's holiest pilgrimage. You may also include Kheer Bhawani Temple, Hazratbal Shrine, Jamia Masjid, Nigeen Lake, Shankaracharya temple, as per your time, in your list to visit.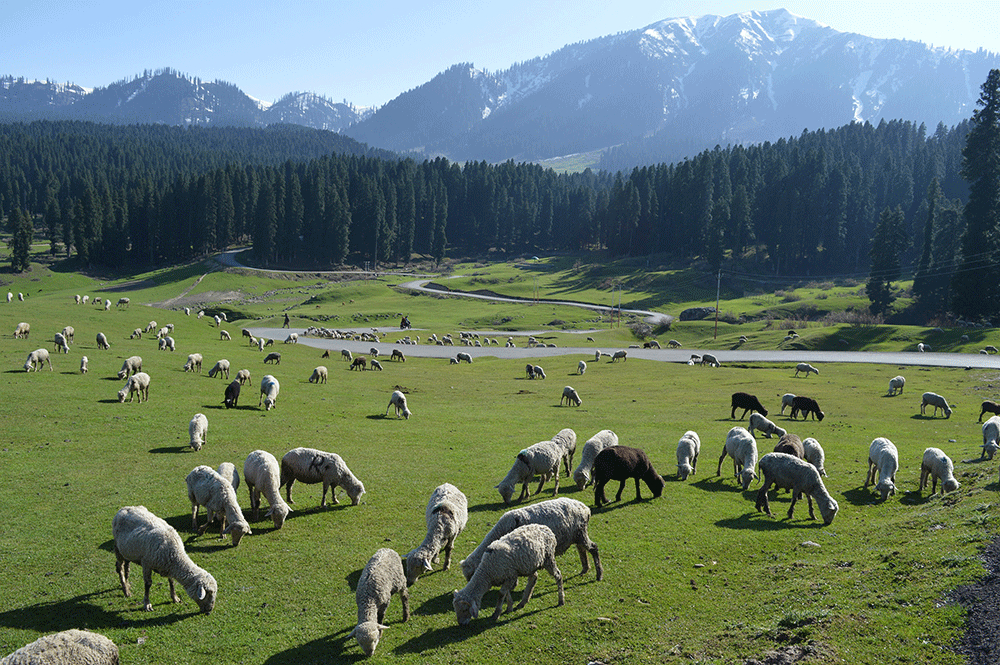 Yousmarg Kashmir
Yousmarg:
If you have a soft spot for offbeat destinations that do not exist on the itineraries of most visitors, then go to Yousmarg. This peaceful and picturesque meadow is framed by hundreds of pine trees and striking pastures. Yousmarg is only 50 kilometers from Srinagar, so it's the ideal day trip out of town.
We've all read and learned a lot about Kashmir and its majesty, but before taking a trip to this stunning Paradise, I came across people who thought twice. They're happy to explore the whole country, but they're going to have second thoughts about visiting Kashmir.
Here are some reasons why you should stop wasting time and go to Kashmir for a holiday.
It is yeah a paradise: indeed, Kashmir is heaven on earth, and in fact, it is much more magnificent. We've all seen Kashmir in different movies, read about it in different magazines, but you know that when you visit it it's a lot more stunning than you imagined. In summer as well as winter, the beauty of Kashmir is distinct, which is why just one visit to Kashmir is not enough.
Climate: There are harsh winters in Kashmir, so if you want to enjoy snowfall, then the best time to visit is NOV-Dec. All over the spot, there are sheets of snow. In November, I visited Kashmir and it was lovely, the winters were tolerable and the visit was worth the snowfall. In spring, Kashmir also flowers, so the whole valley in Summers looks distinct. Make a visit between March-May and there will be beautiful flowers in Kashmir to welcome spring.
Culture: The culture and people of Kashmir are compassionate and affectionate. You get to know so much about the people who greet you with generous smiles when you visit Kashmir.
Food: For all, you food lovers like me the place to be in Kashmir. It is worth tasting once, particularly the traditional Kashmiri cuisine, and you will certainly visit again. A close favorite is Roghan Josh.
It's SAFE: Yeah! In India, Kashmir is as secure as any other city. Any other day, you don't face a bomb attack, nor do you see jihadists in the city running about. Kashmir is really peaceful, there's just the culture and customs you need to respect. In Kashmir, there is no threat; it is as nice as visiting any other region.
Avoid postponing your visit to the lovely Kashmir valley. Kashmir is a must-visit destination at least once in your lifetime. You would simply fall in love with the spot until you see the elegance of the valley, the way it blooms with each sunrise, and the way it appears with each sunset.
"Gar firdaus bar-rue zamin ast, hami asto, hamin asto, hamin ast."
"If there is a heaven on earth, it's here, it's here, it's here."
- Jehangir